Land Bank
The Van Wert County Land Reutilization Corporation is focused on facilitating the transition of blighted, vacant and abandoned properties into viable, marketable properties by working collaboratively with public and private entities in a financially responsible, transparent manner with a long-term goal of returning these properties to the tax roll or other greater public purpose.
Home Guard Temple – 201 E Main St.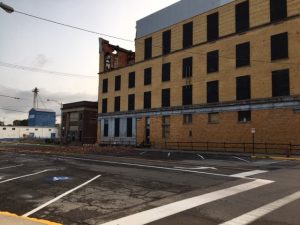 On September 13, 2020 at approximately 2am, the northwest corner of the building collapsed leaving an unsafe, unstable structure becoming an imminent threat to public health and safety.  Van Wert Area Economic Development, Van Wert County Foundation and Main Street Van Wert are actively looking for public funding to raze the building.  Comments can be forwarded to info@vanwerted.com
AVAILABLE PROPERTIES
---
308 & 314 S. Market St., Van Wert, Ohio
The minimum bid for this property is $250. Bids are due by December 20, 2021 at 9:30 am. The bid proposal form is available below. The bid proposal and the application for property acquisition must be returned to the VWAEDC office. The only forms accepted to bid are those provided on the website or by VWAEDC personnel. *Please note that this property may be affected by proposed flood plain*
---
Land Bank Documents
---
"As a longtime Van Wert citizen, and one who has taken pride in this community for many years, I would like to commend Van Wert Area Economic Development in its work with the land bank operation. I realize it's easy to let properties go over a period of time, and it's even easier over time, to accept them as normal for our community. However, when a new eye comes into our community and makes us aware of how it could be, we all benefit. Through the land bank operation, the City of Van Wert has been able to raze certain buildings and homes in disarray that many have become accustomed to. What an improvement we have experienced with the elimination and return to green space of these blighted properties.
As Executive Director of the Niswonger Performing Arts Center in Van Wert, I see visitors coming into our community on a regular basis. What an improvement we have enjoyed that we can now show off our entire community with pride! Thank you, Van Wert Area Economic Development."
– Paul Hoverman